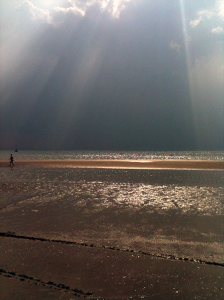 The NOS will broadcast a special program on NPO 2 tonight at 8.30 pm on the occasion of the climate summit, presented by Herman van der Zandt from the Wadden Center on the Afsluitdijk. Peter Kuipers Munneke shows the state of affairs with regard to climate change and the global consequences. It is about how we can protect ourselves against rising sea levels, salinization, flooding and drought.
'If you want the sea to be calm and not rising anymore, anymore, anymore'….
There will be flood risk a

t a higher sea level, flood risks increase very quickly. 'Deltares' has calculated that the current coastal reinforcement program should be three to four times larger in the Netherlands! The Maeslant barrier at Maassluis now hardly ever needs to be closed, but a one meter rise in sea level makes the port of Rotterdam inaccessible a few times a year. Already two years ago we made an attempt via 'The Climate Song' to draw attention to the rising of the sea level, only CNN gives artist a voice and pays attention to these kinds of expressions. Wake up World, we're back to the Paris Accords now that Trump has voted himself out with an attack on Capital Hill.