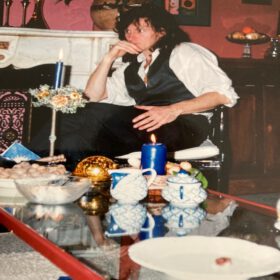 Wanted: Love
before Christmas is coming…what it is you want?
https://bertsmeets.bandcamp.com/album/wanted-love
an eight track album full of love for 7 €
wow!📭
(u hoeft niet snel naar de winkel want kan online meteen geregeld worden…klik boven op de link)
Nr 1
'Wanted Love'
Song uit mijn 'eerste Heerlense periode', met Hole and Corner
Ik begin met de zwaarste eis van de liefde die niet gehoord, noch beantwoord kan worden…
'life's all but a catch (if) you gotta change the map'.
Nr. 2
'Making Love Again'
een teloorgegaan hippie sentiment wat door een Spaanse vriendin, Andrea Abellán, tot leven gewekt werd toen zij op een love-cruise ging werken en vroeg of ik voor de crew een lied wilde schrijven….aldus geschiedde.
overigens een oproep aan alle generaties tegen de hoogmoed-waanzinnige types die moorden, stelen, annexeren, een oorlog beginnen zoals Putin en zijn Stalin Sovjet kliek…geen voorbeeld voor niemand doch een hardnekkig virus.
(better say the word again peace, peace, peace love, love, making love, making love, peace again
Nr. 3
NEVER LET LOVE DOWN..
Na 'Making Love Again', pende ik gelijk 'Never Let Love Down', en mijn eigen situatie vergelijk met die van mijn zoon, die getrouwd en een vaste 'eeuwige' relatie aanging doch bleef mijn 'hippie optimisme' trouw, vrijheid en liefde is niet te koop.
'You and I, we and them digging for the planet love, be my guide, be as wise to be part of everyone peace, peace….'
Nr. 4 
(Positive) Inside Information
werd als singel alleen in België gedraaid (studio Brussel) met voorwoord van Bo Diddley en toen voelde Nederland zich gepasseerd en was 'Inside Information', 'banned', in Nederland.
('Make your own decision, you're not decoration)
Nr. 5
'Where I Am'
Dit lied schreef ik thuis in onze serre als 15 jarige beroeps-puber. Mijn zus Marie-Therese stelde voor om het te zingen in een kerkkoor te Heerlerbaan waar zij zich bij aangesloten had vanwege de knappe jonge, te vroeg overleden dirigent.
Zij durfden het aan om 'Where I am', in een beat-mis uit te voeren, bleek een succes. Een song van een gedesoriënteerde puber met een volwassen blik!
Nr. 6 
'Foolish Runaway'
met een maffe openingszin: 'in darkness I wake up with the sun in my head'.
Nr. 7
"Teach Him, Again',
Hallo, arme broeders van Bleijerheide, die de liefde van Jezus op wel een heel merkwaardig manier lieten blijken': 'children came out of the school, jump and shout far away in the sky', maar gehoord werd je niet (omerta)!
Nr. 8
'Freedom of love'
The Clan, life succes lied: 'who needs love, drifting like chocolate'? 'Are you free absolutely free of sun and moon slavery', is niet geschikt voor de Nederlandse 'voice' markt!